---
In the descriptions of some of the works illustrated on this site there are references to the type of work; oil. watercolour, mixed media, woodcut, monotype, monoprint, for example. I thought it would be helpful and interesting, therefore, if each reference was explained and some of the methods and materials shown.

Field sketching
---
Sketch:
A rough hasty or undetailed drawing representing the main features of an object or scene and often made as a preliminary study.
The starting point for most of my work is the field experience as pure observation is the raw material. It might be a few small sketches, or a larger and more considered drawing, sometimes even a more ambitious painting which one hopes distils something of the day's experience - a hope once best described as, "Snatching the eternal out of the desperately fleeting…".

Sometimes something
straight from the field can be framed and exhibited, but mostly one finishes the day with a whole range of snatched ideas, detailed sketches, themes and notes which can be taken back to the studio to be viewed in a new light and worked through in many different ways using a range of methods and materials.
The kit layout below (plus a small bottle of water) is what I take with me everywhere I go when out and about in the field - it packs away easily and quickly into a small waist pouch, it is light and has just enough 'tools of the trade' to respond to just about every eventuality.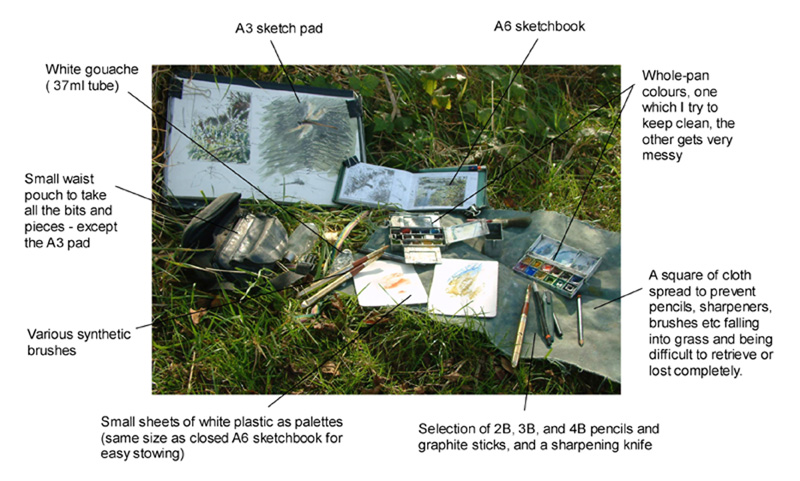 When tackling themes on a much larger scale, for example beneath the Cuillins on the Isle of Skye in March (right), I take along two additional boxes of materials. They carry a larger range of watercolours in tubes, a selection of oil pastels, charcoal and different crayons, a number of large soft nylon brushes (from 1/2 to 2 inch in size), and other bits and pieces. The lightweight aluminium easel (see the 'Versatile Easel' at Frank Herring and Sons) is tethered to stabilise in the wind.

Although in the small sketchbook there will be pages where the media are mixed - charcoal and pencil, crayon and watercolour, ink and dry wash for example, it is when working on a larger scale the mixing of the media tends be more robust. So oil pastel might be worked hard before watercolour washes applied, or charcoal brushed with water and oil pastel rubbed in over the top. A work made like that would be labelled 'mixed media'.





(Right) I usually have binoculars with me for distant viewing, but increasingly use a small Opticron Gallery Scope that enables very close focusing. It is fascinating being able to explore the minute beauty of bees, beetles, dragonflies and butterflies.