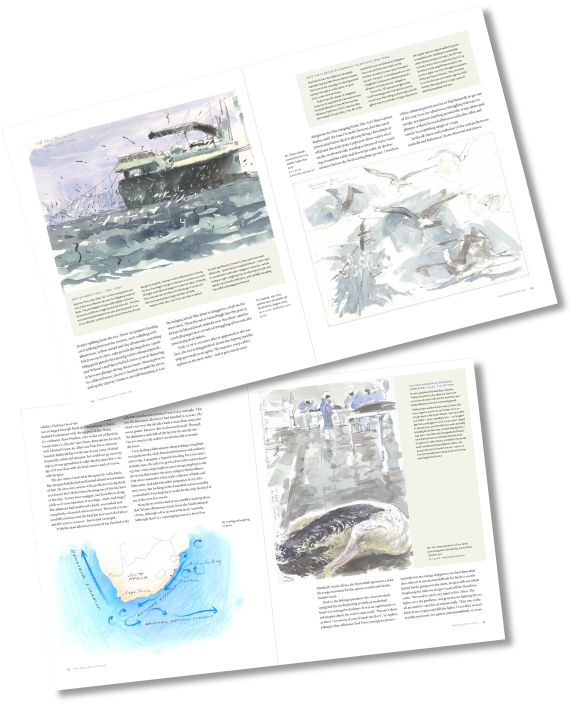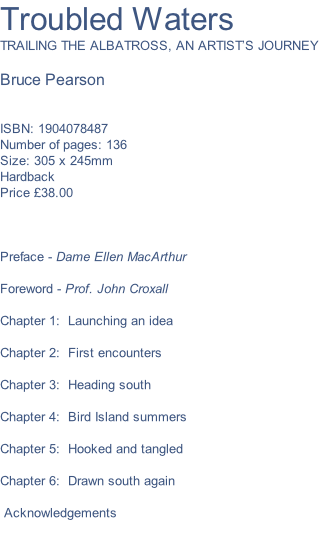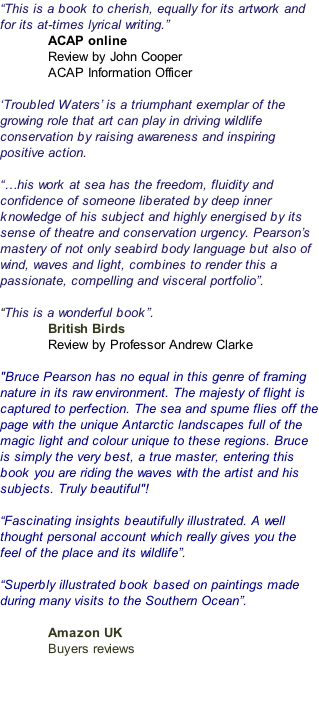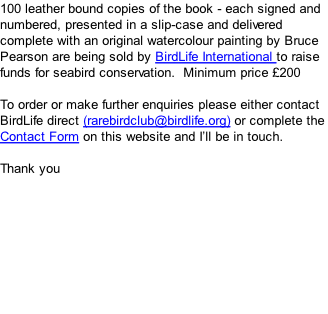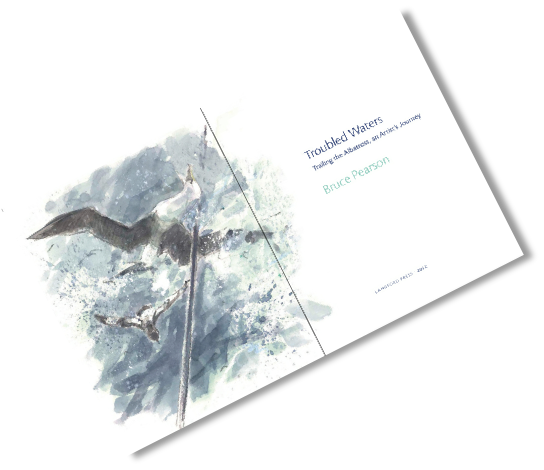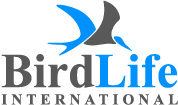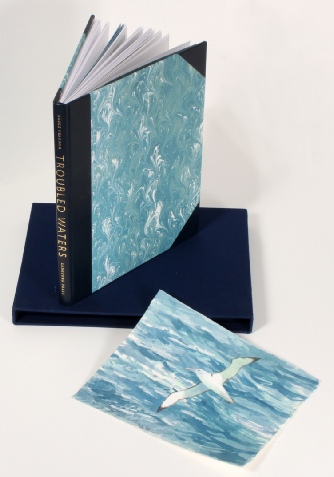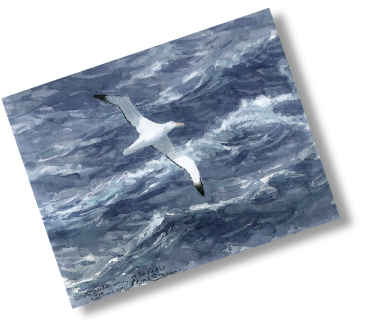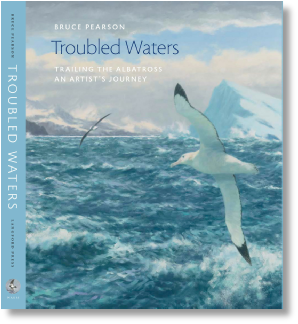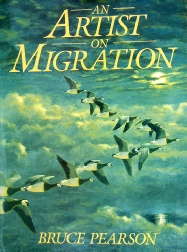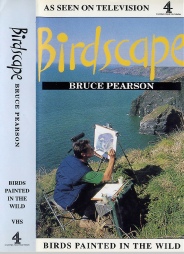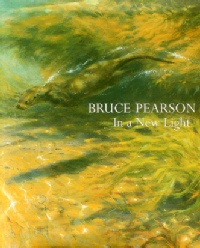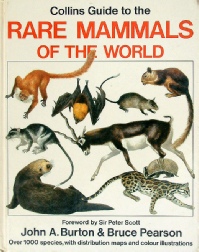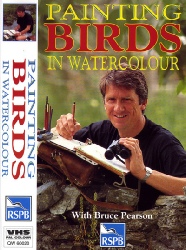 Other than copies of Troubled Waters I don't have stock left of any of the other books, films and videos of I've been involved with as artist, author (or both) over the years.
However, a thorough web search or look at Amazon usually produces available second-hand copies.
Good luck.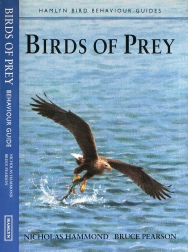 Signed copies available
£25 + p&p (current UK p&p £5.60)
Use Contact form to order
Signed copies available
£25 + p&p (current UK p&p £5.60)
Use Contact form to order
An original watercolour painting (240mm x 300mm) included with one of the leather bound special edition books

Far From Land - The Mysterious Lives of Seabirds, by Michael Brooke
With illustrations by Bruce Pearson
Seabirds evoke the spirit of the earth's wildest places. They spend large portions of their lives at sea, often far from land, and nest on beautiful and remote islands that humans rarely visit.
Thanks to the development of increasingly sophisticated and miniaturized devices that can track their every movement and behaviour, it is now possible to observe the mysterious lives of these remarkable creatures as never before.
This beautifully illustrated book takes you on a breathtaking journey around the globe to reveal where these birds actually go when they roam the sea, the tactics they employ to traverse vast tracts of ocean, the strategies they use to evade threats, and more.
Michael Brooke has visited every corner of the world in his lifelong pursuit of seabirds. Here, he draws on his own experiences and insights as well as the latest cutting-edge science to shed light on the elusive seafaring lives of albatrosses, frigatebirds, cormorants, and other ocean wanderers. Where do puffins go in the winter? How deep do penguins dive? From how far away can an albatross spot a fishing vessel worth following for its next meal?
The author addresses these and other questions in this delightful book. Along the way, he reveals that seabirds are not the aimless wind-tossed creatures they may appear to be and explains the observational innovations that are driving this exciting area of research.
Featuring illustrations by renowned artist Bruce Pearson and packed with intriguing facts, Far from Land provides an extraordinary up-close look at the activities of seabirds.
Michael Brooke is the Strickland Curator of Ornithology at the University Museum of Zoology, Cambridge. He is the author of Albatrosses and Petrels across the World and the coeditor of The Cambridge Encyclopedia of Ornithology, and has written widely on science and travel for outlets such as the Daily Telegraph and the Guardian.
For more information, see Princeton University Press website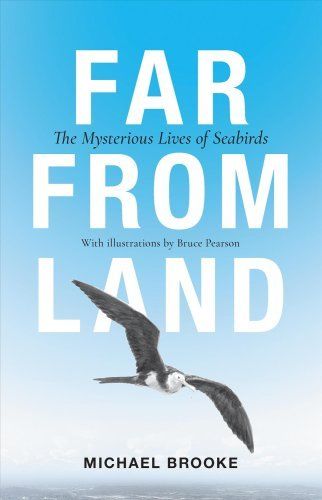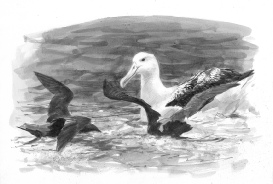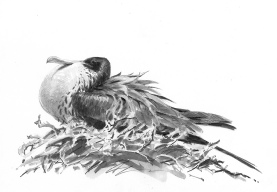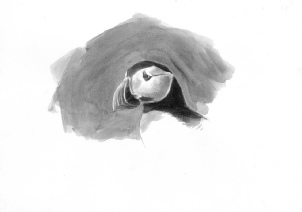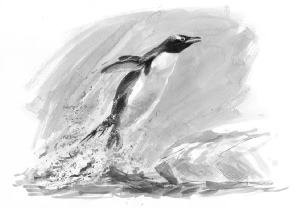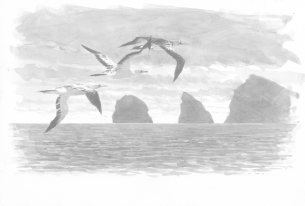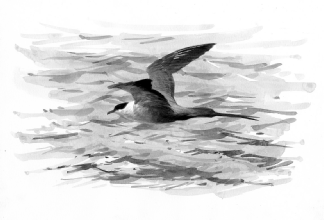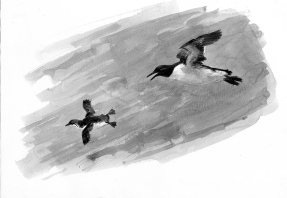 I worked on these illustration last winter, going through piles of old sketches and notes to find ideas that might emphasise some of the concepts Michael was advancing in the text.
We drew up a provisional list then pared it back to make sure there was a balance in the number of drawings for each chapter.
All the drawings are pen, ink and pencil and vary in size across a standard (380mm x 270mm) sheet of archival quality hot press fine art paper.
All the drawings are for sale and the prices are shown.
Please use contact page for further information, and about availability.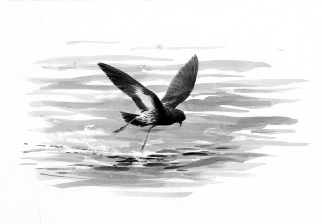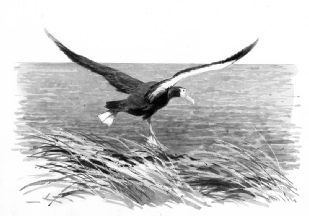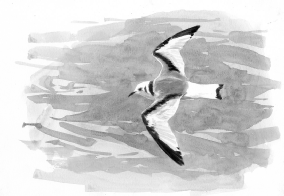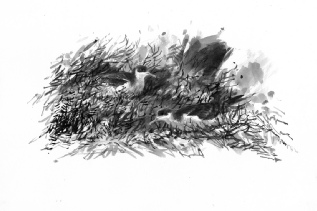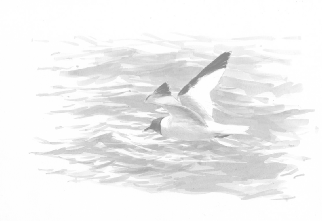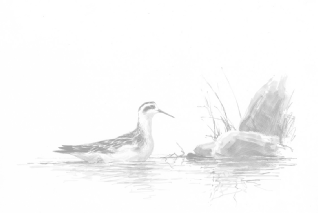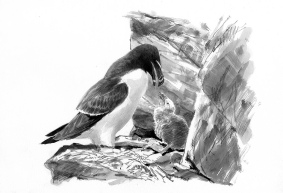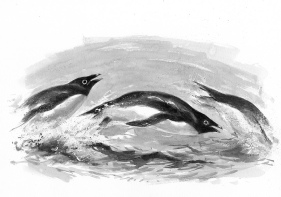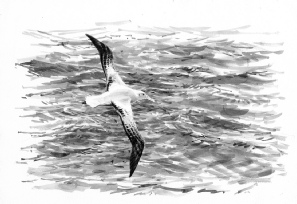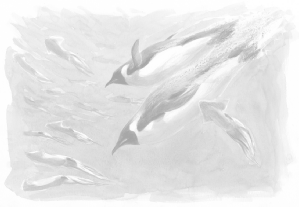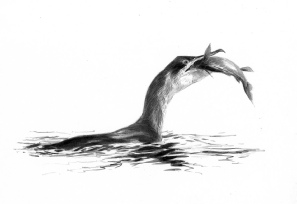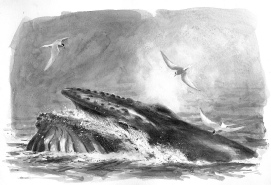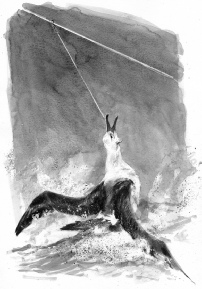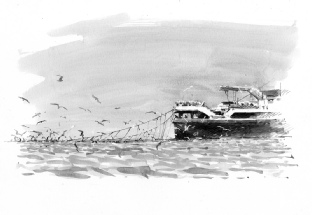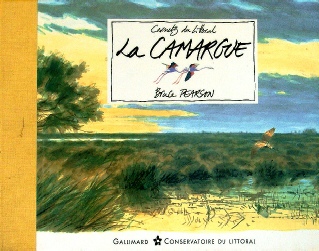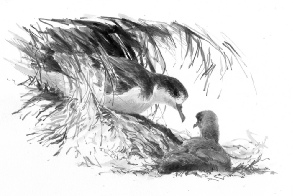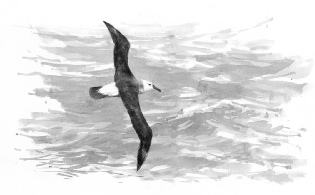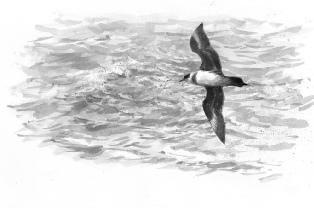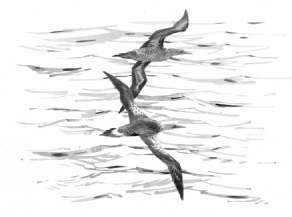 These 4 drawing were produced for the book, but were not used in the final published edition
Northern royal albatross and white-chinned petrels (£175)
Wandering albatross taking first flight (£125)
Adélie penguins porpoising (£125)
Emperor penguins chasing squid
Trawler working with tori-lines deployed (£125)
Adult wandering albatross (£125)
Humpback and Antarctic terns (£175)

New Zealand storm petrel (£95)
Juvenile greater frigate bird (£95)
Magnificent frigatebird (£125)
Guillemot with chick descending from breeding ledge (£125)
Black-legged kittiwake (juvenile) (£125)
Razorbill feeding chick (£125)
Shag (winter) surfacing with fish (£95)

Indian yellow-nosed albatross snared
on longline (£125)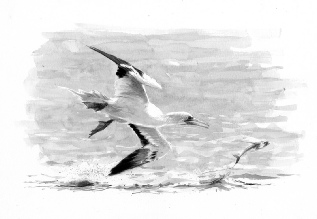 Red-footed booby chasing flying fish (£145)
Blue petrel with chick in nest burrow (£145)
Juvenile black-browed albatross (£125)
Immature northern gannets (£125)